Shower Pans Chula Vista, CA
Shower Pan Co employs some of the finest shower pan specialists in California. We have in-house crews who can plan, design, and install shower pans with outstanding results guaranteed. We have successfully completed numerous projects in Chula Vista, San Diego, El Cajon, National City, Lakeside, Jamul, La Mesa, La Jolla, Alpine, and Poway, hence making us well-loved and trusted by residents in these areas.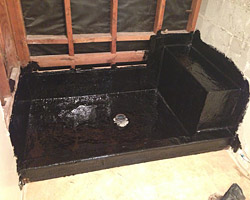 With more than 18 years of relevant industry experience, we bring our unmatched skills and knowledge in installing premium shower pans that deliver the expected benefits to clients. Call us now and let us prove why we're among the leading shower pan installation companies in the state of California.


Expert Shower Pan Designer and Builder
Our company follows a meticulous approach to designing and installing shower pans for our clients in Chula Vista, CA and nearby locations. We talk to our clients and discuss their desired results, budget limits, and other concerns. We also survey clients' bathrooms to gain a deeper idea of the possible needs and potential issues that we might encounter. We then prepare the design plan and incorporate our clients' ideas. Once the plan gets their nod, we begin preparing the area and perform minor renovations if needed. Only when we're 100% sure that the area has been properly and fully prepared do we begin the installation phase. This approach lets us avoid potential problems that may not only be time-consuming but also costly.

It's important to note that we only use top-quality materials and follow methods that are proven effective. For example, we prefer the hot-mopping process because it is the most effective waterproofing method. With the kinds of materials we use and the techniques that we apply, we can assure clients of long-lasting shower pans that are leak-proof and sturdy. Our approach will also help prevent damage caused by inadequate preparations, faulty installation, or inferior quality materials.


Trust Only in Experienced Shower Pan Installers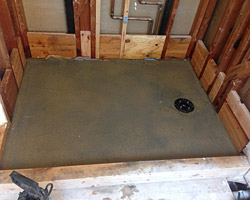 We are extremely proud of our lengthy experience in this particular job. When it comes to the design and installation of shower pans, you must hire only a certified and licensed contractor like us. Aside from our experience, our personalized approach is also our advantage over competitors. This means that clients can expect truly personalized showers that suit their personality and complement the rest of their bathroom's interiors.

As a matter of company policy, we sit down with clients, present our plans, get their ideas, and create the perfect shower pan within the shortest time possible. The best thing is that they can get our services at affordable rates. So even if you have fairly limited funding for your showers, you can still hire us and have professionally installed shower pans.

Hiring a competent shower pan installer can save you the headache and costs associated with inferior pans installed by inexperienced contractors. You should trust only in Chula Vista's most reliable shower pan installation company - Shower Pan Co. We promise to deliver you outstanding results that you typically get from large and well-established installation companies. Call (619) 569-1904 right now.