Hot Mop Shower Pan San Diego, CA
Our company is the most trusted shower pan installer in California. For years, we have been providing professional services for residential and commercial property owners in San Diego, Chula Vista, El Cajon, National City, Lakeside, Jamul, La Mesa, La Jolla, Alpine, Poway, and other cities in the state. Our decades of experience in the industry have helped us hone our skills and master the different installation methods and techniques. We are the go-to guys for clients who are looking for expert hot mop shower pan installers.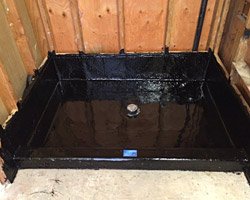 Call us now and we will show you why we are the right company to hire for this home improvement project. You may call (619) 569-1904 or visit us at our office during business hours.


Why Choose a Hot Mop Shower Pan?
Water and moisture can damage flooring, drywalls, fixtures, and other structures in the bathroom area. That's why you must consider the importance of having a properly designed and installed shower pan. Your showers should be carefully designed and must be made from the finest materials. Your contractor should also use proven methods and techniques so that moisture and water leaks will not cause damage to your bathroom and other structures inside your home. If you have a poorly installed shower pan, expect to spend thousands of dollars on renovation and repairs.

And here at Shower Pan Co, we only recommend hot mop shower pan because of its outstanding characteristics. The hot mop process is the most effective method to prevent leaks in the shower area. In fact, this is widely used by contractors when working on residential and commercial projects. Although there are other alternatives such as the use of shower pan liners, hot mopping is still the most reliable. We've been using this process for our clients in San Diego, CA and surrounding areas. And we are proud that all our clients are fully satisfied with the results of our work.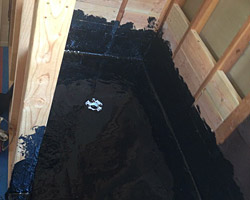 Here are some of the advantages of the hot mopping process:


It provides multi-layer protection, which can't be matched by other waterproofing methods.


The process can be finished within hours and does not need lengthy waiting time between coats.


Hot mopping will not require splicing, folding, or glue to secure dams, corners, and seams.


Tiles can be installed within hours after completing the hot mopping process.


It can be applied on any shower pan size or design, which is not possible with precut shower pan liners.


It is a proven method that has been widely used in residential and commercial applications for the past 50 years.


We Are the Experts in Hot Mop Shower Pan Installation
When it comes to hot mop shower pan installation, there is no other company in San Diego and nearby areas that can offer the kind of workmanship that we can provide. Shower Pan Co is composed of well-trained crews who have worked on numerous installation projects before, so you are assured that the people working on your shower pans are all skilled and knowledgeable.

From planning and design up to the installation phase, you can always rely on our expertise. Our hot mop shower pan installation service is guaranteed to provide optimum protection. Your shower pan is 100 percent sealed, waterproofed, and protected. Call us now!